What was the inspiration behind our Holly Collection - Ballet Bracelet?
Our Holly Collection Ballet Bracelet was launched with our Spring 2018 Release. Our Ballet designs were becoming increasingly popular and we wanted to create a new, fun, delicate ballet bracelet for the new collection. We wanted this bracelet to really POP, be adjustable and include rose quartz with metal accents! We love the geometric accent beads we chose for this design, so we selected the faceted rose quartz beads to compliment the accents and then added a tassel for a little extra flair! We hope you enjoy this bracelet as much as we do!
WhAT IS THE HOLLY COLLECTION - BALLET BRACELET MADE OF?
Our Holly Collection Ballet Bracelet is made with 10mm faceted rose quartz beads and 18k yellow gold ion-plated stainless steel accents. Rose Quartz is a variety of quartz. It normally shows a soft color, ranging from a faint pink to a medium pink and it is normally hazy. Rose Quartz is pretty common and can be found in all over the world, in places like Brazil, Madagascar, South Africa, India, Mozambique, India, and in the United States (Maine & South Dakota).

Many believe Rose Quartz to be a stone of unconditional love. The stone is said to have high energy, but a calming and soothing vibe. Rose Quartz is said to allow wearers of this stone to open their hearts to compassion and love for both themselves and others.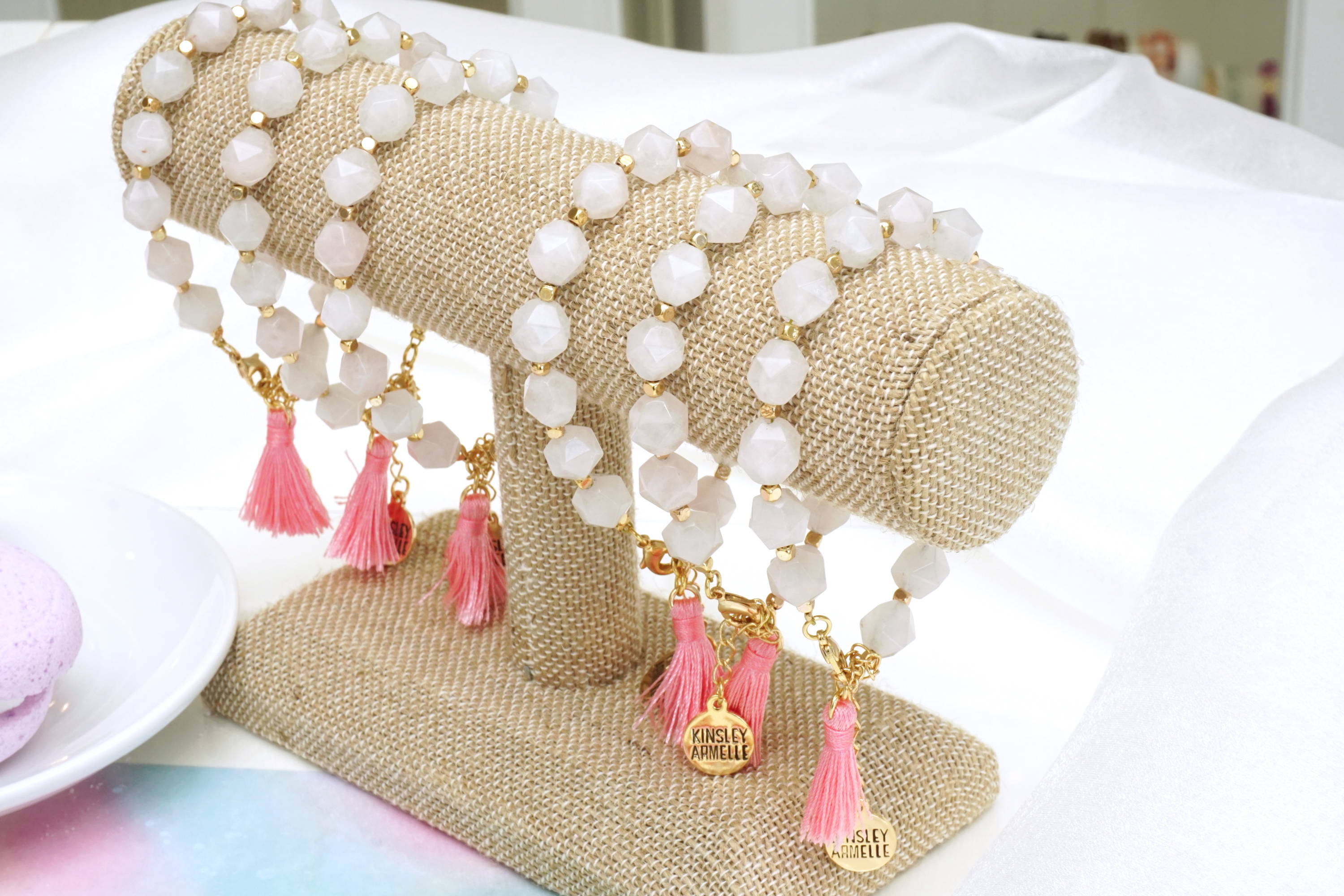 WHAT IS THE BEST WAY TO STYLE THE HOLLY COLLECTION - BALLET BRACELETS?
We LOVE stacking this gorgeous bracelet with other KA Ballet designs and Pepper pieces. Shop some of our collector favorites below!
So what are you waiting for?
Add one of our Holly Collection Ballet Bracelets to your KA Collection today! Hurry, quantities are LIMITED!